Atomic Annie - Sick frustrations - New foundations - pre save is live!
The debut album "Sick frustrations – New foundations" by Atomic Annie will be released on 5.5.23 and is already available here in pre save.
Jamie Hembree: Streetdate for Blood In My Whiskey
On 03/17/2023 the time has finally come, with "Blood In My Whiskey" the second release from the upcoming album by Jamie Hembree will be released. Pre-Save it here.
Atomic Annie - new Single out now!!!
Atomic Annie - new Single is around the corner
On 10.02.23 Atomic Annie will release the second single from the upcoming album. "Violent Violet" is available now in pre-save.
Atomic Annie - the first News
On 04.11.22 Atomic Annie will release the first single from the upcoming album. "Diamonds & Gold" is available now in pre-save.
Our family is growing - BRR signed Atomic Annie
We are very happy about our newest member in our family – Atomic Annie from Finland.
Atomic Annie is a five-piece rock band that produces a wonderfully dirty sound, catchy stoner & and blues riffs that absolutely deserve to be heard.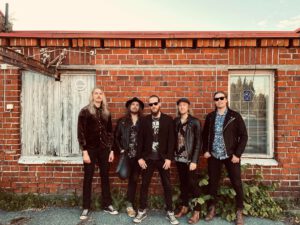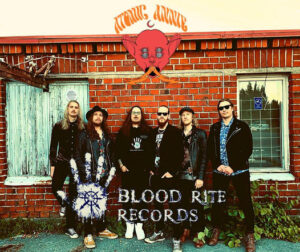 Second week #1 on the SWFL charts
Congrats to Jamie Hembree. Also in the second week he keeps on place 1 of the SWFL charts.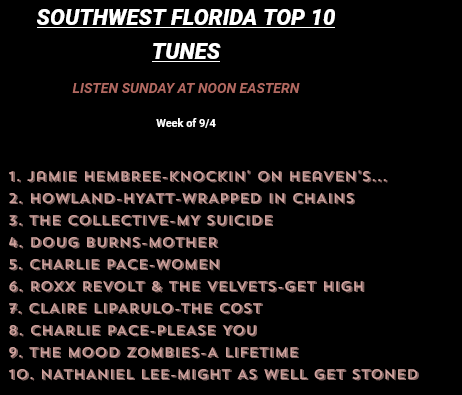 Congrats to Jamie Hembree
Congratulations to Jamie Hembree. Not only did he reach #4 in the SWFL Top 10 with "Knocking On Heaven's Door," but he also landed at #191 in the legendary Billboard Top 200 with "Miss Tennessee" from the new Andy McCoy album.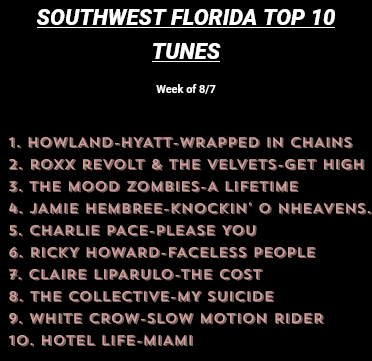 New Familymembers
We are proud to announce that Blood Rite Records is getting new members into the label family.
We will be more international and introduce to you:
Mr. Tuomas Vuorio as A&R Division Finland and Nordic Area
as well as
Mr. Jamie Hembree as A&R Division USA and Canada.
They will represent the label in their Areas.
A warm welcome to the family.
Roxon A.D. goes USA
Things continue to go up for Roxon A.D.. "Rest In Pain" started successfully in the Spotify Plays and the band will not only accompany Lordi on their cancelled tour in 2022, but also complete a small USA tour in May. We are very hyped what the year still has in store for the band.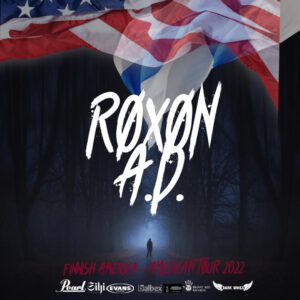 Rest in Pain Releaseday
Happy Releaseday to Roxon A.D. on their release of "Rest in Pain". The streams are available here: Klick
First Single of Roxon A.D. is ready to kick Ass
On 12/24/21 the first single from Roxon A.D. "Rest in Pain" will be released. If this is not the perfect Christmas gift….
FLESH ROXON is dead....long live ROXON A.D.
After Nicky Rothen decided to go his own way and bury Flesh Roxon, the 3 remaining band members joined to form ROXON A.D. and started a new era. With new vocalist Eamon Loxx and second guitarist AJ Richards they now start into a new future. We are very excited to see what this will bring and are looking forward to it. The first single is planned for 2021 and will cause quite a stir. Goodbye Flesh Roxon, Welcome Roxon A.D.!
Presale for Red Lights has started
"Red Lights" by Flesh Roxon will be released on 6/25/21.
Happy Releaseday Sidewalk Mafia!
Happy Releaseday to Sidewalk Mafia. The single "This Frozen Paradise" celebrates its release on 21.1.21.
Sidewalk Mafia signs with Blood Rite Rec.
We are honored to welcome Sidewalk Mafia from Finland to the family. The still young band is a real enrichment for us and we are looking forward to the cooperation. On January 21, 2021 the first single "This Frozen Paradise" will be released and gives the starting signal for a hopefully successful year 2021.
"Last" new Single by Flesh Roxon
On 1.1.20201 follows the second advance single from the upcoming album of Flesh Roxon and opens the new year rapidly.
Flesh Roxon meets Blood Rite Records
We are happy to welcome the Finnish rockers of Flesh Roxon on Blood Rite Records.
There can be no better debut for the band than to announce their first single "Let's Fucking Die" for 10/30/2020. This will be just the first taste of their upcoming album, which will be released in 2021. There will also be a single release and of course a video to bridge the wait.
Breaking News
For the label Blood Rite Records, founded in 2017, the year 2018 starts well. Two up-and-coming bands could be welcomed to the label family.
The Swiss hard rock / metal formation ACE – A Concert Experience could already be happy about the early Christmas present to their fans and themselves on 20.12.2017. There the single release of their track "Hell Yeah" was published. This is a small foretaste of the upcoming album "Zombies In Suits", which is scheduled for release on November 16, 2018. The record launch will be celebrated mightily with the audience at Club Ölfleck in Aarau.
As the second newcomer, the Hamburg-based industrial rockers Sector have signed their label deal. After their EP "Observation" was well received by fans and the music press, the two have vowed to release the debut album "Digital Voodoo" in April 2018.
We are convinced that you will hear a lot from both bands in the future, says label head Frank "Anubis" Forst, we have been able to follow the career and development of the artists for some time. For example, ACE was able to support the Swiss flagship rockers of Eluveitie. Sector could already fulfill a dream in their musical career and bring the Wasteland Stage at the W:O:A to a boil. Which band wouldn't like to play a show at Wacken …
After the first successes, it's time to take the next step in the band's career. There, on 06.04.2018, the eagerly awaited debut long player will delight the metallic heart. As part of a Wacken Warm Up Party, the record release of "Digital Voodoo" will expand the stage program in front of the home audience at Kaiserkeller in Hamburg. So we can look forward to an industrial thunderstorm of the finest, there is no room for cornerstones, headbanging is the motto.
Blood Rite Records was able to get the global players of Ingroove USA and Rough Trade on board as worldwide distribution partners. Thus, a strong distribution system for future releases is in place. New albums are already in planning and negotiations with further bands have begun.
Be Prepared